Lord Corpse
Characteristics
Name
Lord Corpse
Kanji
死体卿(したいきょう)
Romanji
Shitaikyō
Race
Frankenstein

Human (Former)

Birthday
Unknown
Age
Unknown
Gender
Male
Origin
Somewhere in Germany
Affiliations
Polar Route(former)

Blitz Guruda(leader,current)

Relatives
Unnamed adoptive father

Unnamed adoptive mother

Unnamed adoptive older brother

Doktor Richter(creator)

Black Skull(creation,possibly) Zapper(creation,Oneshot) Countless other Frankensteins(creations)

Ability
Specialized Regenerative System

Frankenstein Creation

Flash Point Hypnosis

Likes
Corpes
Dislikes
Warmth
Manga Debut
Oneshot 1
Lord Corpse (also known as "Lord Cadaver", "King of Necrophilia" or just "The Count") is the main antagonist of "Embalming". He is a Frankenstein, a Creator, as well as the founder and leader of Blitz Guruda. Later on it's revealed that he was once a regular human by the name, Tod Schatten, but he gave up his life in order to become the last of the Ultimate Eight (the Specialized Regenerative System) due to his disgust and hatred for the living.
Years ago, Lord Corpse was a street urchin that worked as a gravekeeper for a Frankenstein creator. He was named, Tod Schatten, from the tombstone he was sitting on when the Frankenstein creator found him. Eventually, the Frankenstein creator saw Tod's prodigal talent with Frankenstein creation and maintenance which led him to adopt Tod and welcome him into his family. However, despite all the warmth and kindness they showed them, Tod felt nothing but hatred towards them and this eventually led him to brutally murder the whole family which led to him being arrested, though Doktor Richter later had him released and made him one of his assistant due to his exceptional skills.
After some time, he discovered John Doe body and brought it to Dr. Richter who planned to use it to create the Specialized Circulatory System Frankenstein, despite the higher ups orders. Tod would later use this information in order to blackmail Richter to make him into a Frankenstein (and more specifically one of the Ultimate Eight) due to him believing that Frankensteins were superior to humans and therefore wanted to become a Frankenstein, but he specifically asked Richter to use only his Brain as he disliked his normal human body. Tod, knowing he'd possibly lose his original memories and/or personality, proceeded with his plan as he believed that with his new powers he'd be able to achieve his dream of creating a world in which only Frankensteins remained.
After that he became Lord Corpse, founded Blitz Guruda and started to aim towards his "paradise of corpses", similar to his living counterpart.
When he was still a normal human, Tod's appearance was like that of a small child, his mouth was large and full of sharp teeth and had long, black hair which covered his uncanny eyes.
As a Frankenstein, Lord Corpse still has weird eyes and long, black hair though now is a lot taller man and lacks the sharp teeth. He's usually dresses in a white suit with a matching top hat and carries with him a skull-shaped cane.
When he was still alive, Tod Schatten was (like many other creators) obsessed with the making of Frankensteins. But unlike the rest of his fellow creators, Tod saw Frankensteins as more than just products and tolls, he saw them as the future of mankind that would one day stand atop humans themselves. In other words, Tod thought of Frankensteins as being superior to humans.
Tod loved corpses and Frankensteins to the point of wishing he was born a corpse and having a desire to become a Frankenstein himself. However, it's revealed later on that Tod's love for corpses originated from his deep-seated hatred of himself, specifically due to his face and body. This hatred festered and mutated overtime to where he twisted "I hate myself" to "I hate humans" and eventually turned from "I hate humans" to "I love corpses". Besides hating his own face and body, Tod also hated warmth as it made him feel sick and being touched by the warmth of humans made him feel like he is going to rot.
Due to his self-hatred, Tod suffers from an inferiority complex and believes that the people around him hate him and think that he is a freak and a perverted. This indicates that he is also paranoid. Tod also possibly has an anxiety disorder due to been shown constantly sweating when nervous and having negative thoughts about himself and the people around him which is likely why he could only befriend corpses.
After becoming Lord Corpse, Tod personality went through a lot of changes. Due to his new appearance, his hatred towards himself no longer exists, alongside his inferiority complex and insecurities. With his inferiority complex gone and his goal of becoming a Frankenstein achieved, his previous meek attitude was replace by a personality full of charisma and confidence, turning him into a reliable leader.
However, his love for corpses and Frakenstein hasn't faded, in fact, it seems to have become even stronger. Now as Lord Corpse has a constant desire to turn any human he sees into a corpse and then turn said corpse into a Frankenstein. This behavior is due to his dream of creating a "paradise of corpses" which requires a high amount of all kinds of corpses.
After becoming a Frankenstein, Lord Corpse's belief in Frankenstein superiority stills exists. He also became quite manipulative, using hypnosis to make Tigerlily his subordinate and putting Scavenger in a perpetual state of hunger to make him obedient. However, despite his wickedness, Corpse was nothing but a coward who was afraid of death as he begged John Doe to spare him.
Frankenstein creation: Lord corpse is one of the best Frankensteins creators in the series, being only inferior to Doktor Richter, Hildegard Peaberry and Victor Von Frankenstein. He is able to create and modify dozens of Frankensteins, do maintenance and repairs in many Frankensteins (including Tigerlily, one of the Ultimate 8) and make many of the "Ultimate 8" even more powerful by enhancing their abilities. He even created his own original plug bolt, when he was still just a kid, a feat that made a Frankenstein creator call him a genius.
Flash Point hypnosis: Through the skull in his cane, Lord Corpse can hypnotize people. He did this only once, in order to make Tigerlily obey him without hesitation.
Bacteria Frankenstein: Installed inside Lord Corpse body by Dr. Richter, a pathogen that can be activated with a single command. It is contagious, lethal and antiseptic, all three properties acting in an instant. This bacteria is capable of killing a massive number of people in an instant.
Specialized Regenerative System: Lord Corpse can control omnipotent cells, which are the foundation of the whole human body, giving him the ability to regenerate his entire body just from his brain. With his Specialized Regenerative System he can form a mass of cells which originate from his body he calls "Death Lumps". These masses take in other cells to use as nutrients and can turn into any kind of biological tissue, even mimicking those of Specialized-type Frankenstein which allows him to utilize all of their unique abilities.
Exoskeleton - Super High Density Bone!!! & Ungeheuer - Super Reinforced Muscle Fibers!!: Lord Corpse mixes the unique abilities of the Specialized Skeletal and Muscular Systems to increase his physical strength and defense, allowing him to easily overpower someone as strong as John Doe.
Ray Eye: An ability originally used by Tigerlily, by filling the inside of an eyeball with Galvanic Current and them rising the voltage to their limit, a great amount of energy linearly builds up in the crystalline until it's released all at once, creating an energy beam in the process. However, unlike Tigerlily who needed to replace her eye after every use, Lord Corpse can simply regenerate his damaged one to attack multiple times in a row.
Ripper Hopper - Respiratory System-Specialized!!: Lord corpse uses Ripper Hopper unique abilities to generate powerful, hurricane force winds for high-speed flight or to release tornado-like attack.
Lord Corpse was (like many of his fellow creators) obsessed with the making of Frankensteins, but unlike other creators though, Corpse saw building Frankensteins as more of a means to an end and was more interested in expanding his influence in a mad pursuit for wealth and power.
Though mainly driven by his greed, the Count still relished in the pain and misery he brought upon the villager that lived nearby his laboratory as well as reveled in the fanatical devotion that his Frankensteins showered him with.
However, despite his wickedness, Corpse was nothing but a coward, begging Rose and John to spare his life when his last Frankenstein, Zapper, fell.
Lord Corpse is a Frankenstein creator who set up his base of operations in a village of constant thunderstorms. After spreading fear and terror there for a year, John Doe was hired to kill him and his Frankensteins by a woman named, Marigold, who lost not only her family but also her legs to Lord Cadaver. John and Rose then killed the Count for their own purposes.
Frankenstein Creation: Whilst in possession of a copy of Frankenstein's black notebook, Corpse was able to manufacture a whole army of Frankensteins, most of them with unique properties. He seemed far more skilled then most other creators, as his creations were very loyal and one was powerful enough to gain praise from John Doe, but he wasn't able to build any that possessed a specialized function beyond the standard extra limbs and/or increased muscles.
Extreme Charisma: Lord Corpse was also a savvy businessmen, working with politicians, law enforcement, and even many of the local rich to fund his research and help him gain a stranglehold on the village he occupied. He was also charismatic enough to gain the loyalty of all his Frankensteins, to the point that they called him "God".
"Tod was born in the womb of a corpse!
His cradle was a coffin,
His nursery the tombs!
His snacks were the oblations,
His toys were human bones,
And corpses were his friends!
He wasn't scared at all!"
The omnipotent cells are likely to be Stem cells, cells that can differentiate into various types of cells.
Tod Schatten means "Death Shadow", although the two words together don't actually mean that (or anything) in German.
Zapper: He only exists in the Oneshot. Created using the muscle fibers of a hundred carefully selected men and given a large broadsword, Lord Corpse designed believed him to be the strongest of all Frankensteins but John Doe quickly proved this idea wrong.
Black Skull: A mere foot solider that was easily defeated by Dr. Peaberry and used as a suit, Black Skull was created in Blitz Guruda (as evident by the kanji on his electrodes) though it was never confirmed whether he was actually created by Lord Corpse personally or not.
The Trio: A group of unnamed Frankensteins that were sent to capture the newly created Frankenstein, Mary Jane Kelly. Due to having the Blitz Guruda electrodes, it can be assumed they were built by The Count. One has enhanced muscles, he fights by swinging around a large axe that literally weighs a ton. One has a body that can break apart and come back together, the mechanism for how he does this is unknown. The leader of the three was a brain that can abandon the body he is in to escape, usually wearing a top hat as a disguise. All three were effortlessly killed by Fury shortly after slaughtering Violet's Mudlark friends.
Countless other Frankensteins: Lord corpse created countless Frankensteins and gave them his originally made plug bolt (with the Kanji for death written on it).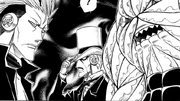 Community content is available under
CC-BY-SA
unless otherwise noted.